INFRARED LAMP HEATER
As a heat source solution, we provide various infrared radiating lamp heaters, which efficiently emits near infrared wavelength especially around 1μm. All are made and inspected in Japan.
HALOGEN LAMP HEATER
[Use Application] semiconductor manufacturing, plastic molding, Thin-film processing, Analytical equipment etc.
■Halogen lamp heater is an efficient heat source which emits 85% or more of electrical power input as infrared rays. By using of tungsten heat element (filament) which is inside quartz tube, it emits peak wavelength around 1.3μm which is categolized as Near Infrared wavelength (NIR).
■By its Near Infrared wavelength radiated heat, halogen lamp heater enables contactless heating, use under vacuum environment, and easy thermal modulation. It is widely used in industrial application such as emiconductor manufacturing and vacuum equipment.
Products

| | | | |
| --- | --- | --- | --- |
| Cirlcle type 100V 1.7KW | C shape 200V 600W | Liner 100V 500W | U shape 200V 1.4KW |
We correspond order-to-made lamps according to your requirement (Power output, Voltage input, Shape). >>see details(pdf)
INCANDESCENT HEAT LAMP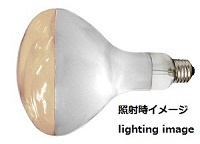 [Use Application] Coating dryer, Food heat-retention, For pet and animals etc.
■Incandescent heat lamp is available for E26 (or E27)/ E39 (or E40) socket fixtures. It emits infrared ray evenly and efficiently by aluminum reflector coated inside bulb.
| Code | Volatage | Power | Bulb dia. | Length | Basecap | Lifetime | Radiation | Radiation efficiency |
| --- | --- | --- | --- | --- | --- | --- | --- | --- |
| IR110V125W | 110V | 125W | 127㎜ | 185㎜ | E26 | 6000h | >85W | >65% |
| IR110V185W | 110V | 185W | 127㎜ | 185㎜ | E26 | 6000h | >120W | >67% |
| IR110V250W | 110V | 250W | 127㎜ | 185㎜ | E26 | 6000h | >175W | >70% |
| IR110V375W | 110V | 375W | 127㎜ | 185㎜ | E26 | 6000h | >270W | >72% |
| IR110V500W | 110V | 500W | 127㎜ | 190㎜ | E39 | 6000h | >350W | >74% |
| | | | | | | | | |
| IR220V125W | 220V | 125W | 127㎜ | 185㎜ | E26 | 6000h | >77W | >62% |
| IR220V185W | 220V | 185W | 127㎜ | 185㎜ | E26 | 6000h | >110W | >64% |
| IR110V250W | 220V | 250W | 127㎜ | 185㎜ | E26 | 6000h | >165W | >66% |
| IR110V375W | 220V | 375W | 127㎜ | 185㎜ | E26 | 6000h | >255W | >68% |
| IR110V500W | 220V | 500W | 127㎜ | 190㎜ | E39 | 6000h | >330W | >70% |