UV LAMP/ LED
Ultraviolet wavelength (UV-A and UV-B) emitting lamp and LED, which is used in various field such as , optical cleaning, UV curing etc. All are made and inspected in Japan
LOW PRESSURE MERCURY LAMP
[Use Application] Sterilzation, Optical cleaning, Measurement etc.
■Low pressure mercury lamp is line spectrum lighting source which emits 184.9 and 253.7nm wavelength strongly. During lighing, it has 1-10 atmosphere mercury vapor pressure (1 atmosphere≒101kPa). Using this radiation spectrum, it is used as photochemical reaction in electronics field and photosterilization.
Products (example)

| | | | |
| --- | --- | --- | --- |
| Liner LP-01S | Single end LP-112 | U shape LP-03 | U shape LP-20 |
LOW PRESSURE MERCURY LAMP
[Use Application] UV curing, Appraisement, Lithographic exposure etc.
■High pressure mercury lamp is designed for making use of 3 spectrum (436nm、405nm、365nm) efficiently. It is high bright light source which has long life and stable emission power. Especially, Ultra high pressure mercury lammp is easy to focus/ difuse design because it is nearly point source with very short arc size. It enables even illuminance distribution.
Products (example)

| | | | |
| --- | --- | --- | --- |
| H-30UV3G | H-50UV2I | BHL-250UV | BHX-500 |
UV-A RADIATION COMPACT LED LAMP FOR CURING, FLAW DETECTION
[Use Application] Resin/ ink curing, Flaw detection etc.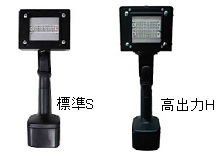 ■We are handligh UV LED light with radiate UV-A. This is compact shape but high output with cooling fan. We provide 395nm radiation type for resin, ink curing and 365nm radiation type for flaw detection. Both have standard output model and high output model.
TYPE
CODE
SIZE(mm)
WEIGHT(kg)
WAVELENGTH(nm)
UV Strength(mW/cm2@10mm)
UV Strength(mW/cm2@100mm)
Battery drive time
Lifelime(h)
For Flaw detection、UV Art(365nm)
Standard
LHPS/U365
126x90x355
1.4
365
100
6
60min
16,000
High
LHPH/U365
126x90x355
1.4
365
550
47
60min
16,000
For Resin / Ink curing(395nm)
Standard
LHPS/U395
126x90x355
1.4
395
250
14
60min
16,000
High
LHPH/U395
126x90x355
1.4
395
500
40
60min
16,000